Bob's Ramble: Ten Predictions on the Future of Work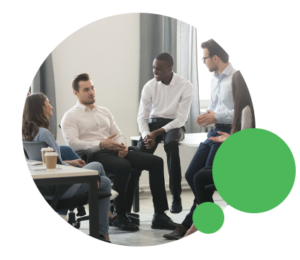 The pandemic has forever changed the way many of us work today and how we will work in the future. For those working in "must be present" roles like customer facing services and manufacturing, the work environment hasn't changed much. For those who provide most of their value through the phone and/or a workstation, the need to be in an office has been dramatically reduced. In the past 18 months, we've proven that "office" workers can be very productive without being in an office. So, what's the big deal? Why are so many managers feeling the need and pressure to get their people back together? If we survived, or even thrived, for the past year – why mess with bringing people back? 
To answer that question, we need to take a deep dive into the value of in person collaboration and understand how that differs among our work groups. For example, one can certainly argue that inside sales, and customer success teams learn as much from listening and collaborating with each other in person as they do from their supervisors. Missing out on that collaboration makes it more difficult for new employees to climb the ramp of domain expertise needed to be effective. On the other hand, 2 hours of daily commuting time cuts into the amount of time one can spend working, potentially reducing time on the job by 20%. Not to mention the angst of dealing with the commute! There is no reason to bring workers back to the office to sit with headsets without collaboration. That work style doesn't need to be in an office except for collaborative sessions. 
Here are ten predictions for the future of work.
Offices will be used by many every day due to personal preference and the nature of their work styles.

 

Offices will rarely be used by those who have task-oriented work that doesn't require much collaboration (all work requires some collaboration, learning, mentoring, relationship management, etc.).

 

Demand for top talent will drive managers who feel strongly that workers should be in the office every day to alter their stance and accept hybrid office work schedules.

 

Scheduled collaborative sessions will create "office days" for some teams, and most workers will greatly look forward to those sessions.

 

Management teams will work with their teams to define collaboration sessions needed (ex. training, brainstorming, sharing best practices, creating work plans, accountabilities, etc.).

 

Office attendance will grow organically over the next year based on the type of business and roles of the employees hold and will ultimately get to a point where it "feels right."  

 

Workers in certain teams will recognize the increase in productivity gained from working in close quarters and will select to go to the office more frequently to gain that edge.

 

Data will support productivity improvements for teams who spend time

 

together, and that will create competitive advantage – internally and externally.

 

Smart leaders and teammates will create fun and productive collaborative sessions that will draw teammates back because they want to be a part of it.

 

Companies that successfully collaborate, with an appropriate mix of in office and remote work, will create sustainable advantage over those who decide that offices are obsolete.

 
Leadership teams need to place their teammates (people) first to create environments where in person collaboration is desired, and not forced.